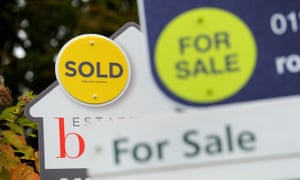 Rightmove is predicting that house prices across England and Wales will rise by 1% in 2018, but there will be a further decline in London.
In its annual report on the market, the property website predicts that 2% price falls in the capital will be more than offset by an increase in the value of small and medium-priced homes around the country.
Rightmove said the average asking price for an English or Welsh home stands at £302,865 – a 2.6% fall on November, but 1.2% higher than a year ago.
A 1% average increase would represent the lowest annual increase since the 0.8% rise recorded in 2011, it said.
Analysts at the website, which claims to list 90% of estate agents' properties, said they expected the price of properties typically bought by first-time-buyers (two beds or fewer) to increase by 3% next year.
The site also said it also expected second-stepper homes (non-detached homes with three or four bedrooms) to increase by 2% over the next 12 months.
This time last year, Rightmove predicted that national asking prices would rise 2% during 2017. The increase was in fact 1.2%. Its prediction that inner London prices would fall 5% proved more accurate, as they fell 4%.
Monday's report chimes with another from the estate agent Savills, which last month also predicted that average prices would rise 1% next year. It said the UK's housing market had proved "stronger than expected" this year, rather than stagnating, as the estate agent suggested a year ago.
From    https://www.theguardian.com/money/2017/dec/11/rightmove-predicts-1-rise-in-uk-house-prices-in-2018