Bitterly cold temperatures and deep snow are forecast across the UK this week as weather blows in from Russia.
A wind chill will mean that during the day it will feel like -10C to -15C.
Yellow and amber weather warnings for snow are in place for Monday and Tuesday, covering southern and eastern England before extending to cover the Midlands, Scotland and Wales.
Wednesday and Thursday's yellow warnings will also cover Cornwall, Scotland and Northern Ireland.
By Wednesday night, more than 20cm of snow could have accumulated in some parts of eastern England and Northern Ireland, say forecasters.
Scotland is expected to have between 5cm and 10cm of snow on Wednesday.
Road, rail and air travellers could face severe disruption, with BBC Weather warning of possibly hazardous conditions in southern England later in the week as a low pressure weather system moves up from the Bay of Biscay and hits the already "exceptionally cold air".
Met Office meteorologist Charlie Powell said: "Unusually for Britain, the snow is going to be quite dry, so it will blow around and gather in drifts and we could see some blizzard conditions."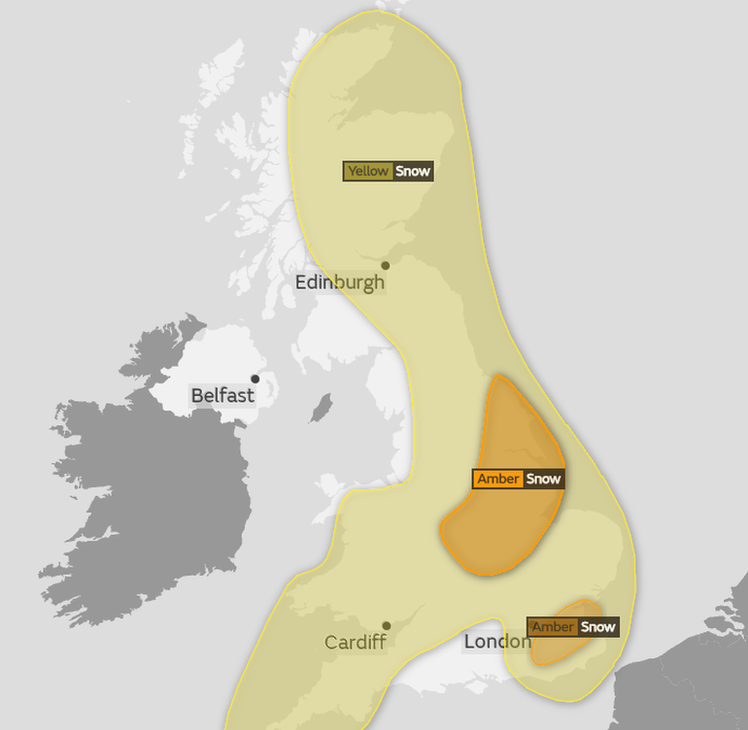 He added that while he did not want to alarm people, the Met Office was urging people to be prepared.
Parts of the UK will feel as cold as northern Norway and Iceland.
The Local Government Authority said councils were well prepared, having stockpiled 1.5 million tonnes of salt to help keep roads clear.
Council teams will also be visiting elderly and vulnerable people to deliver hot meals and carry out emergency heating repairs, the LGA said.
However, it urged people to check on neighbours who may struggle to cope in the cold.
All Greater Anglia trains will stop by 22:00 GMT on Monday with a reduced service running on its routes during the day between Tuesday and Thursday.
C2c services will operate normally until 21:00 GMT and passengers have been warned to expect alterations and cancellations on Monday night.
In London, TfL is advising commuters to check before travelling and to allow extra time for journeys.
"Any precipitation will turn readily to snow, and with bitterly cold strong to gale force easterly winds," blizzards are likely, said Alina Jenkins from the BBC's Weather service.