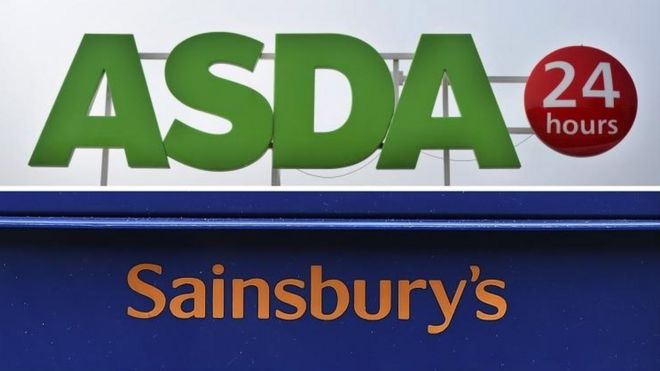 Sainsbury's has confirmed plans to merge with Asda, which is currently owned by US supermarket giant Walmart.
The supermarkets said that grocery prices would fall in both chains as a result of the merger.
Sainsbury's chief executive Mike Coupe said the deal would lead to no store closures and no job losses in stores.
The combination of the UK's second and third largest supermarkets would create a giant, representing nearly £1 in every £3 spent on groceries.
The combined group comprises:
2,800 stores
330,000 employees
47 million customer transactions per week
combined revenues of £51bn
"There will be be no store closures," Mr Coupe told the BBC's Today programme.
"There's been a bit of commentary over the weekend where people have been alluding to the fact that the only way of making this happen is by closing stores – that is not true.
"The stores will continue to trade and of course that's where the vast majority of people employed by both companies actually work."
Shares in Sainsbury's jumped 16% in response to the merger news.
http://www.bbc.com/news/business-43945254