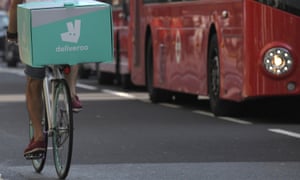 A group of 50 Deliveroo couriers will share a six-figure payout from the takeaway delivery firm in a settlement of an employment rights claim.
The riders, who were represented by the law firm Leigh Day, argued that they had been unlawfully denied rights, including the legal minimum wage and paid holiday, after being labelled self-employed contractors.
The case was to be the latest in a string of similar employment rights claims, against Hermes, Uber, Addison Lee, City Sprint, Excel and eCourier, which have that ruled gig economy drivers and couriers have "worker" status with more rights than independent contractors.
Annie Powell, a solicitor in Leigh Day's employment department who represented the riders, said: "Deliveroo has paid out a material sum to settle these claims. In our view, this shows that Deliveroo knew that they were very likely to lose at the employment tribunal.