The heatwave is raising sea temperatures in parts of England to higher than some of those in California, according to statistics.
Bracklesham Bay in West Sussex, where temperatures have hit 21.6C, is beating temperatures in Zuma Beach, at 20.6C.
UK temperatures are overall way higher than the average for the time of year.
Figures from the Channel Coast Observatory (CCO) also show that Skegness and Morecambe have been a few degrees warmer than Cornwall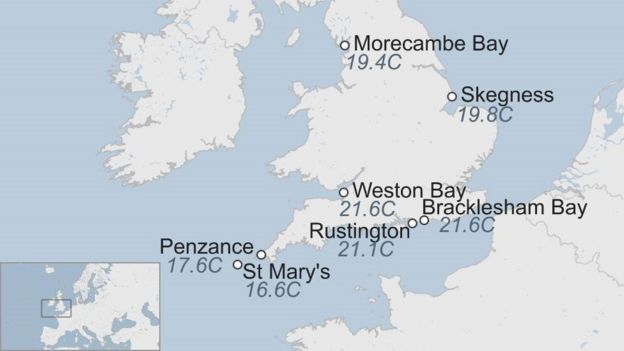 Penzance at 17.6C is more than 2C above the average of 15.2C for this month over the last 11 years.
The South West, which is famed for its beaches, may be the first choice for many to dip their toes in the water.
But the warmest places include Bracklesham Bay, and Weston Bay in the Bristol Channel, which both hit 21.6C on Monday.
From https://www.bbc.com/news/uk-england-44923091